Avida Towers Sola - LOCATION
No other place better defines the northern Manila area than Quezon City. As the biggest city in the metro, its energy is electrifying, even as it maintains its laidback, easygoing vibe. It is this dynamism that nurtures creativity and the entrepreneurial spirit of the young, and makes Quezon City the ideal home to the country's new central business district – Vertis North.
Quezon City is the largest city in the Philippines with a population of 2.68 million people. It becomes the country's information technology hub and as well as the country's entertainment industry. The city does not only boast with business and job opportunities, but there are also other establishments that will provide you with almost everything that you will need. Quezon City may be the biggest city today, but it has an easygoing and laid-back vibe that will help the millennial of today enhanced their entrepreneurial spirit and creativity.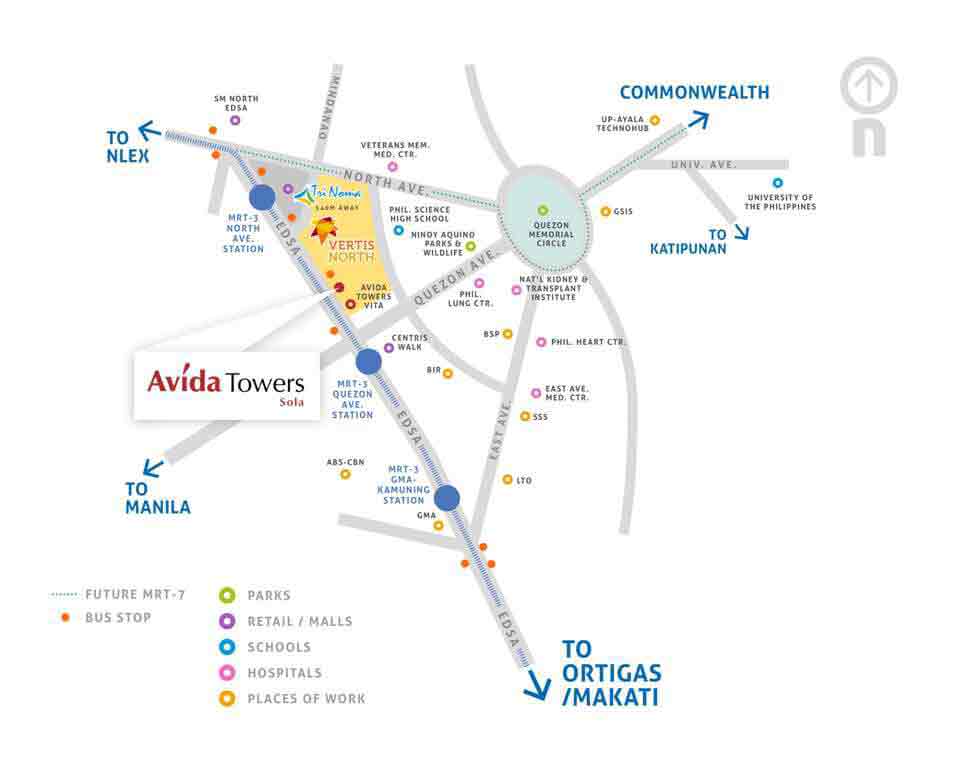 As mentioned above, Avida Towers Sola's is located in Quezon City, which is near almost everything. Living in this condominium will not only give you security and comfort but as well as the convenience that you deserve. Get to know some of the hospitals, schools, churches, and other establishments in the area by reading the information below.

Hospitals
One of the requirements that most buyers need is having a hospital nearby. This is a great thing because you don't want to be driving a long way just to get to the hospital, especially during emergencies.
Here are some of the hospitals near Avida Towers Sola:
Providence Hospital
St. Luke's Medical Center
Dr. Jesus C. Delgado Memorial Hospital
Capitol Medical Center
Quirino Memorial Medical Center
The Medical City
De Los Santos Medical Center
National Children's Hospital
Quezon City General Hospital
East Avenue Medical Center
Philippine Children's Medical Center
Philippine Heart Center
UERM Memorial Hospital
National Kidney and Transplant Institute
Lung Center
World Citi Medical Center

Churches and Worship Places
Churches and worship places are things that families also require when looking for a place to live in. This is why Avida made sure to build a residential building near churches and worship areas.
Here are some of the hospitals near Avida Towers Sola:
The Santo Domingo Church and Convent
Our Lady of Mt. Carmel Shrine
Church of God in Quezon City
The Immaculate Conception Cathedral of Cubao
Sta. Rita de Cascia Parish
Sacred Heart Parish Shrine
National Shrine of Our Lady of Lourdes
Church of the Gesu
Monasterio de Sta. Clara
World of Hope Church
Capital City Alliance Church
Our Lady of Pentecost Church
Church So Blessed International
Santuario de San Vicente de Paul
Church of the Risen Lord
Santa Maria Della Strada Parish Church
St. Joseph Shrine
Christ the King
Saint Paul the Apostle Parish

Schools and Universities
Of course, schools and universities are a must when it comes to the place you live in. You need to make sure that they are nearby for you or your children. This will help them to avoid getting stuck in traffic just to get to their schools.
Here are some of the schools and universities near Avida Towers Sola:
Claret School of Quezon City
Lourdes School QC Elementary School
St. Joseph's College of Quezon City
Grace Christian College
APEC School
New Era High School
St. Vincent School
Trinity University of Asia
Saint Paul University
Ateneo de Manila University
University of the Philippines
Collegio de San Lorenzo
Miriam College Higher Education Unit
Polytechnic University of the Philippines

Retail and Shopping Malls
Living around retail and shopping malls will bring convenience and entertainment to everyone. This is why Avida Towers Sola is near in almost all the biggest malls in the city. Doing the grocery or simply just going shopping or unwinding won't be a problem anymore because everything that you need is just a few blocks away.
Here are some of the retail and shopping malls near Avida Towers Sola:
Gateway Mall
Ali Mall
Fisher Mall
Trinoma
Wil Tower Mall
Robinsons Magnolia
Eastwood Mall
Tactics Water Gear
Cubao Expo
Robinsons Galleria Ortigas
Circle C Mall
SM City Fairview
U.P. Town Center
Farmers Plaza
Z Square Mall
Centris Station
SM The Block
SM City Novaliches